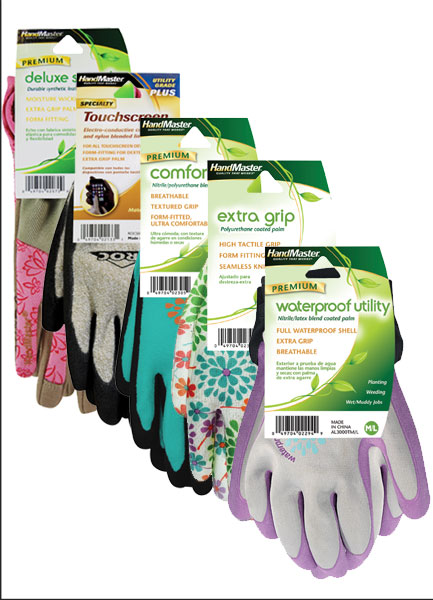 Magid Gloves
Garden Gloves
New from Algoplus+! Men and Women want gloves that offer fit, protection and comfort... but look great, too. Magid believes details make the difference and we agree! Crafted with form-fitting, high quality materials for the best dexterity, comfort and protection. Magid designs upscale, unique and innovative garden gloves, based on current color and social trends. From whimsical to sophisticated, these collections deliver the perfect balance of function and style.
Prices start at only $2.99! See our collection details below to decide which styles suit your needs.
Extra Grip

Breathable • Extra Grip Palm • Form Fitting
Form-fitting, printed seamless knit glove is the ultimate in lightweight protection. Polyurethane palm coating provides added grip and longer wear.

Floral print. Available in Women's sizes Small and Medium.

Comfortflex®

Moisture Wicking • Textured Grip Palm • Form Fitting
With a supremely comfortable, form-fitting and breathable nylon back, this glove is perfect for gardening tasks. Utilizing a new combination of polyurethane and nitrile, the double coated palm provides textured grip in wet or dry conditions.
Turquoise and Black. Women's sizes Small/Medium and Medium/Large.

Waterproof Utility with Wrist Strap

100% Waterproof • Extra Grip Palm • Wrist Strap
With a fully waterproof and breathable, 100% polyester shell, this glove will keep your hands dry and clean no matter the gardening conditions. The nitrile and latex blended, coated palm provides extra grip and durability as well as added wear and protection. Hook and loop wrist closure with side vent spandex panel keeps debris out and provides a secure fit. Neoprene cuff offers extra comfort. Gloves easily rinse clean.

Lavender and Gray. Available in Women's sizes Small/Medium and Medium/Large.

Deluxe Spandex with Durable Synthetic Leather Palm

Moisture Wicking • Synthetic Leather Palm • Form Fitting
Form-fitting and durable, this glove has a lightweight, four-way stretch spandex back and synthetic leather palm with reinforced fingertips for maximum comfort and performance. With an extended palm, shirred elastic wrist and slip-on cuff, this glove is the ultimate gardening and work glove. Extra grip palm and terrycloth thumb brow wipe complete the attention to detail.
Pink and Tan. Available in Women's sizes Small, Medium and Large.

Men's T-ROC® Touchscreen

Extra Grip Palm • Touchscreen • Form Fitting
Send a text. Answer the phone. Look up information. All without having to take off your gloves. Regular garden gloves won't work on touchscreens. The T-ROC® will. With an electro-conductive copper and nylon/polyester blended liner, the T-ROC® allows the transfer of an electric current — which makes the touchscreen work. Compatible with all touchscreen devices, the T-ROC® is form-fitted for dexterity and accuracy and has a polyurethane palm for extra grip and durability.
Black and Gray. Available in Men's sizes Large and Extra Large.
ALGOPlus, the Organic Gardener's Best Kept Secret!